Hello Scribble Pad readers! I'm Laura, from
Twirl
, and I'm honored to be here sharing my little mission with you today! This is me, standing on African ground where my heart was opened and stretched, and changed forever. Visiting a third world country will do that to you. Heck, not having chocolate for two weeks does that to me, but it was the people there, with their joy and their trust, and their unfaltering hope, that moved me to act long after I returned home.
I want to tell you about my dear friend named Grace, a lady who befriended me in a Tanzanian market six years ago and has been a part of my life ever since. Meeting Grace and experiencing her kindness and generosity when I was just a homesick 22 year old volunteer was just the beginning of the impact she had on my life. My family began funding her two kids' schooling shortly after my return, and over the years we yearned to empower her, and "teach her to fish" on her own. Grace supports her family through her shop in Arusha and recently joined me in bringing her beautiful handmade scarves to our friends in America through an online shop,
Giving Grace
.
We just restocked the shelves and are looking forward to raising the money she needs for 2013. We are drenched with the spirit of giving this Christmas, and I would love it if you would like to join the Giving Grace family in the new year. Read more about the
launch of the store
(September 2012). As you take a moment to browse, remember
100% of the proceeds go back to Grace
so she can put it towards school fees. Thank you so much for taking the time to meet my friend, Grace, and thank you Shannon for the opportunity to introduce her! You can find her full story
here
, and see what happened the first time I asked friends like you to join our family in supporting her
here
. I still haven't picked my jaw up off the ground...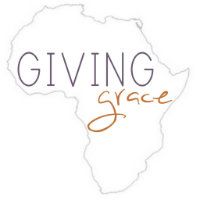 Guys, this is what I am talking about.
These are the types of projects that I want 2013 to be all about.
Serving one another in community.
Honoring God.
I am so thankful to have "met" Grace, through Laura, through blogging, years
after their paths first crossed. I hope you get a chance to dive deeper into their
remarkable story and as Laura says, join the Giving Grace family this year!
xoxo,
Shannon