Last week, we had a lovely visit from Boston. Our friends Sara and Sam came to play in DC and enjoy the beautiful weather. As you can see, Behr and Sam became fast friends. You never would know they are four months apart.
Behr was fascinated by everything Sam would do.
Sam is kindly teaching Behr he doesn't need his paci...or he is trying to steal it.
I was so excited to learn how to make an
animated gif
. Huge thanks to Lauren over at
With Two Cats
for sharing this with me (and all of her readers). Now you get a wonderful view of the
thin
svelte Washington Monument and my
lumpy
curvy post-pardum body. Good thing Behr is cute!
doing the tourist thing
We were able to enjoy the park in the evening after much needed naps. This little gem is only a few blocks from our house. We cannot wait until Behr is old enough to appreciate it more. Clearly Sara and I had fun with the burst feature on her camera.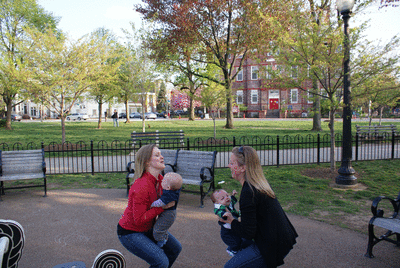 After the park, we took one more stroll around the Capitol. It is so close, how could we not? Passing these beauties is one of my favorite parts of living in DC and walking to work. The evening sun casts a warm glow, making it my favorite time of day to go sight seeing.
Supreme Court
Back of the US Capitol
{random DC factoid: the back is photographed more frequently than the front because the back over looks the Mall}
Overlooking the Mall from the steps of the Capitol